WARSHIPPER: Interview reveals details of the first European tour
Postado em 04 de setembro de 2019 @ 16:00 | 1.104 views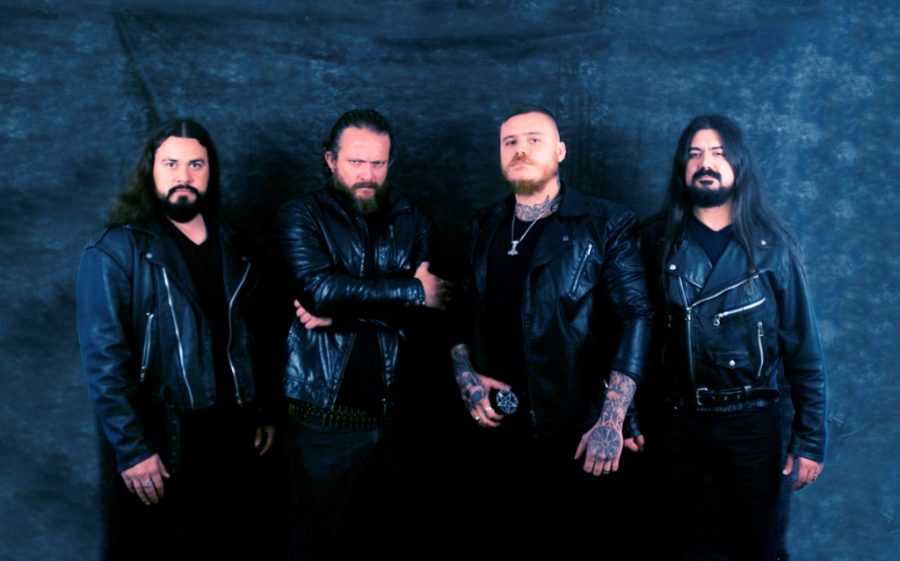 This September the band WARSHIPPER, from Sorocaba/SP, will embark on their first European tour, together with another Brazilian band, Necrobiotic. The tour will start on 9/9 in Berlin, going through nine cities in six countries, and the last show will be held on 9/29 in Pisek, Czech Republic. "Symphonies for the Atheist Over Europe" is being organized by Songs For Satan, which acts as a label and now also as a booking agency. WARSHIPPER debuted in the cast with the single "Atheist", released earlier this year, also released in lyric video format. Currently working on the successor of his second album, "Black Sun", Renan Roveran (guitar/vocals), Rafael Oliveira (guitar), Rodolfo Nekathor (bass/vocals) and Roger Costa (drums) announce the European tour, which will go through several countries in September. Guitarist Renan told more details of this spin, check it out!
By Maicon Leite
The band's latest release was the single "Atheist", which marked Warshipper's entry on the Songs for Satan label. How was the journey of debut "Worshipers of Doom" (2014 ) so far? What can we expect from the successor of "Black Sun", released in 2018?
Renan Roveran: First of all thank you for this space to expose more about our work. As always, it is great to be able to count on all your support from Maicon, a longtime friend. I found the phrase "journey" very interesting. In fact that's how we feel, considering all the remarkable events and events since not only the release of "Worshipers of Doom" (WOD) in 2014, but since the beginning of the band in 2011. A lot has gone on and, for the underground reality, at a relatively interesting speed. Since WOD came out, we have released another album in Brazil and Russia, we have released two more singles, five lyric videos and two music videos. In addition to these releases, we did a string of great shows and mini tours, got a deal with Songs for Satan (SFS), and scheduled a tour in Europe. Evaluating this way, I consider many accomplishments for an underground band in less than five years. This all makes us very proud and motivated to follow firmly, as it demonstrates that all our hard work and dedication are producing good results. After all that, we still have the energy to return from Europe and finalize the recordings of our 3rd album. Yes! Come over there. We have already started part of the process and the rest will be completed as soon as we return. Soon we will give more details about album title, theme, cover, and release dates. For now I anticipate for all of you that it will be a very strong and impactful work in many aspects, and will further consolidate one of the great characteristics of our musicality: No rules; without standards; no limits to our inspirations and creativity. In addition, I highlight the importance of people and friends who have always been involved in all this, helping us in many ways, supporting and enabling us all.
The members of the band have an interesting music curriculum, originating from Heavy, Death and Thrash Metal. What was it like to put together this melting pot of influences and create the sound of the band, which, by the way, has a very different signature when it comes to Extreme Metal?
Roveran: I really like to talk about this. In fact WS has a direct influence from a huge diversity of different musicalities and inspirations in general. I myself have a considerable breadth of musical background, which permeates various settings of extreme or more traditional metal, including Progressive Rock, Blues, Post Punk, Dark Wave, and even electronic music. I would write a huge list here of possibilities, both individually and in the general context of the band, considering all members of WS. This perception that we share between us of the band, facilitates and influences a lot in our compositions. When we started the band we agreed that there would be no preconceived rule or idea about composition. This premise has been increasingly consolidated over the years of the band. This is one of the main features of our music and perhaps one of the aspects that motivates me the most. As a composer, the freedom to explore the fullest of my emotions, without limits or preconceptions, is my biggest motivation.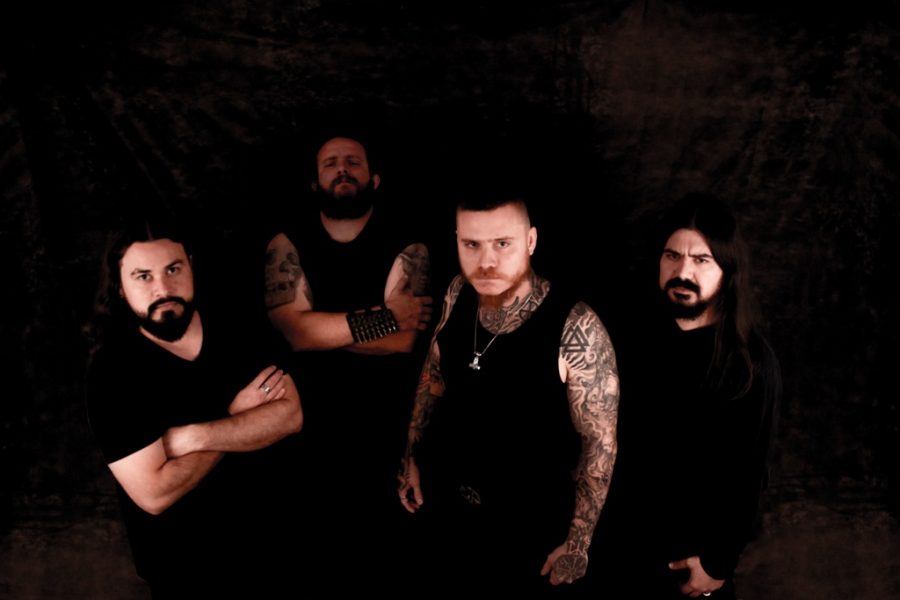 "Symphonies for the Atheist Over Europe" European tour is being organized by Songs For Satan, which acts as a label and now also as a booking agency. How did they get their invitation for this first band venture outside Brazil?
Roveran: It all started, no doubt, in a bar, drinking a lot of beer! Despite having shared the stage with Necrobiotic in the past, only on this occasion early last year (2018), Flávio Oliveira (Nectobiotic, Songs for Satan) really got to know each other and we ended up developing a great friendship. This event was in Belo Horizonte, when we met Mario Cesar (Empire of Souls, Infector), Felipe Brasil (Songs for Satan), Flávio and I, and even after several other meetings took place, it all started on this day. Since the partnership for the release of the single "Atheist", the booking of the tour and the release of our next album. As the four of us from WS were already looking forward to taking these new steps, it was easy for us to resolve internally and stick with the plan.
The tour will go through countries like Germany, France, Czech Republic, Slovakia and the Netherlands, in 10 dates sharing the stage with another Brazilian band, Necrobiotic. What is the expectation of this debut on the European stage? 
Roveran: There is great anxiety on all of us, no doubt. It will be one of the great milestones in each one's musical and life history. We look forward to making great presentations, with a lot of energy and feeling, making new good friends, making contacts for possible future plans and coming home feeling not only fulfilled, but with full gas to do much more in the coming years. Other than that, one aspect that I consider fundamental and I look forward to is further strengthening all this brotherhood that exists between the four of us (the four "R"). These guys are my great friends and brothers. All of this will make us even closer, which will directly influence everything that happens about WARSHIPPER.
Everyone knows that Brazil, being a country with continental dimensions, hinders a complete tour in its own territory. With Bywar you have experienced some playing experiences outside São Paulo / Rio de Janeiro. How was this experience? Do you believe there is a chance that Warshipper will look for a stronger national coverage in terms of shows? 
Roveran: I always talk about it with the guys in the band and everyone else I live with! Some of the biggest and most rewarding experiences I've had in my entire music career were events that I played in the North and Northeast of the country. I was able to make many great friends during these experiences. People like Emydio Filho (Gallery Productions), Marcondes Paula (Storm Blast Productions), Roberto Gino (Gino Production), Sergio Gomes (Deluge Master, Animal Fest), André Bocão (Leprosys Productions), among many others, marked my life a lot. It is history. We have been talking a lot about the next steps of WARSHIPPER, and seeking a tour of these regions is one of the main goals. We are also studying the possibility of some partnerships to make this possible. Other than that, we try to explore other regions where we also have great friends, and meet people from great bands. For example: I never played in Rio Grande do Sul. I would love to go there to do some gigs with bands of friends like Mortal Touch, and also Exterminate, for example. And this is an experience that I will surely have soon. Besides the other states where I've played with old bands, but where WS never performed. There are great strong-named events in other regions, which we hope to be part of in future editions, too.
The lyrics of "Black Sun", as well as "Atheist", deal with themes that encompass philosophical and existentialist concepts. Drummer Roger Costa had stated that "lyrics matter as much as music. We seek to unite the lyrical concept directly linked to the sound ". Could you draw us some points that characterize this symbiosis between lyrical and musical content? 
Roveran: I like to emphasize the whole cold, dense, sometimes dark atmosphere of our musicality, which I often compare with the skeptical and detached functioning of spiritual yearnings that the four of us individually carry and which is certainly conveyed in our musicality. We all have our social and emotional deficits, but I think the best way we use to express what we feel and think is through our compositions. Music is the most present in our lives and our way of demonstrating how important it is is by composing, playing and recording with all our feeling and dedication.
Watch the lyric video of "Cry of Nowhere":
What does the band plan after the end of "Symphonies for the Atheist Over Europe"?
Roveran: We'll arrive from Europe and lock ourselves in the Casanegra studio next to our great friend Rafael Augusto Lopes, to finish the recordings of our third album. After that we will study ways to promote new tours, attend major events and consolidate our partnership with SFS. Other than that, we have our participation guaranteed in the Sorocaba Brutal Fest 3 event, coordinated by our great friend Manoel Hellsen, alongside the Besatt Poles, with whom we will share stage for the second time. Other dates are starting to emerge as well, and I hope we can spread our musicality to all sides of our country.
Renan, thanks for your attention! When you get back from Europe, please give us a little tour diary so we can learn a little more about this big step in Warshipper's career! 
Roveran: Thank you, once again, on behalf of everyone in the band. A great honor to be able to participate in this chat. I will certainly share details of our adventures during the tour and, in addition, we will be keeping track of this entire trip through our social networks.
Check out the full dates:
19/09 – Berlin / Germany – Tommyhaus
20/09 – Hamburg / Germany – BambiGalore
21/09 – Utrech / Netherlands – DBs Big Ass Metal Fest
22/09 – Fontaine-l'Eveque / Belgium – MPC Apache
23/09 – Lille / France – Le Midland
25/09 – Cologne / Germany – Halle am Rhein
26/09 – Augsburg / Germany – Ballonfabrik
27/09 – Vienna / Aus – Weberknecht
28/09 – Nitra / Slovakia – Frankie Rock Club
29/09 – Pisek / Czech Republic – Restaurace Papirak
Social Media:
Facebook: www.facebook.com/warshipper
Twitter: www.twitter.com/warshipper
Youtube: www.youtube.com/warshipperband
Press Manager: www.wargodspress.com.br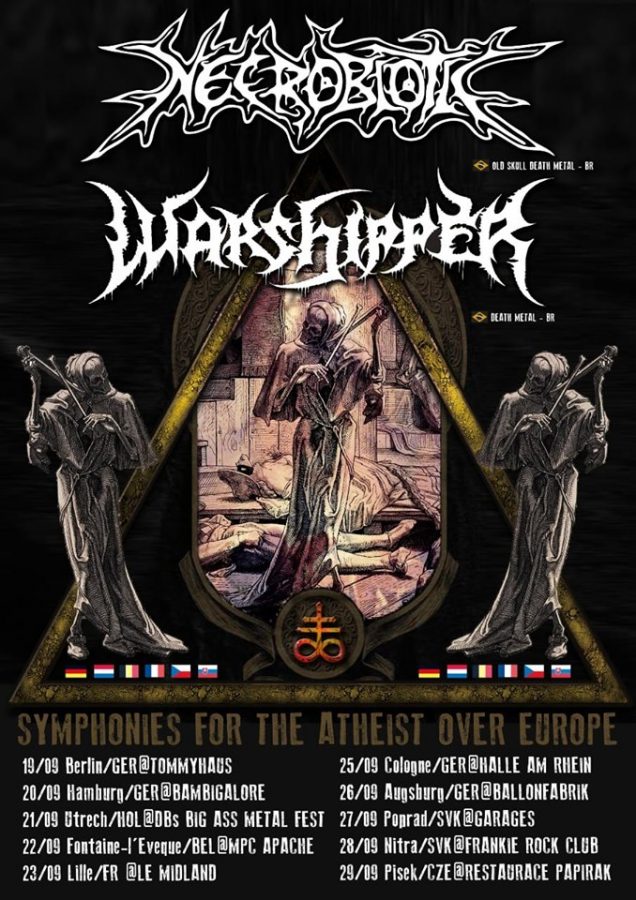 Tags:Death Metal, Entrevista, Interview, Wargods Press, Warshipper
Categoria: Entrevistas